Wee Bit O'Ireland St. Patrick's Day Celebration – March 17 – 19, 2023
Since 1982, The Heppner Chamber of Commerce has organized the annual Wee Bit O'Ireland Celebration and has continued to be one of the largest St. Patrick's Day festivals in the Pacific Northwest.
In 2023, the tradition continues with favorite events like the Cruz-in Car Show, the Big Green Parade, live Irish entertainment and games, Murray's annual Beer and Wine Tasting, artisan markets, and more.
New events include the inaugural Chili Cook-off, hosted by FadedJoes Barbershop, St. Paddy's Trivia Night with Heppner Daycare, and Kid's Crafts & Bouncin' Bins, hosted by Sage Garden Preschool.
Town & Country Awards Banquet – May 4, 2023
On Thursday, May 4, 2023, the Heppner Chamber of Commerce hosts the annual Town & Country Awards Banquet, honoring citizens that go above and beyond to make Heppner a beautiful, thriving community. 
Awards include Students of the Year, Educator of the Year, Woman of the Year, Man of the Year, Business of the Year, and a Lifetime Achievement Award. 
The Heppner Chamber of Commerce will be accepting nominations for this year's categories in April 2023. Award recipients are then chosen by a select committee. 
"Let the Good Times Grow" at the 110th Morrow County Fair – August 16 – 20, 2023
The mission of the Morrow County Fair is to provide the best county fair possible for all residents of Morrow County. It provides a gathering place for all communities to showcase their products and skills. It creates educational, social, cultural and economic opportunities to preserve and promote agriculture and traditions of both ends of the county.
Blue Mountain Century Scenic Byway – Sept. 2023
This difficult 145-mile/233-kilometer route cuts the corner of Interstate 84 in northeast Oregon, leading through ranching communities up into the forests and wilderness areas of the Blue Mountains. 
The Heppner portion of the Blue Mountain Century Scenic Bike Ride is hosted by the Heppner Chamber of Commerce.
The event is planned for September 2023. Contact Sheryll Bates for details and registration information: 503-970-7226, or [email protected]
Heppner Lights at Heritage Park – Nov. 30, 2023
A new Chamber event started in 2022, community members gather for the lighting of Heritage Park. Heritage Park has several pieces of historic farm and ranch equipment covered in Christmas lights! Inside the Morrow County Heritage & Agricultural Museum, visit with Santa & Mrs. Claus, listen to carols from local school choirs & bands, drink hot cocoa, and more!
Heppner Celebrates Christmas – Shop Local Event – Dec. 14, 2023
Talking Rocks Podcast & Historical Tour
The Talking Rocks of Heppner have come alive! Take a historical tour of Heppner, Oregon following our Talking Rocks. Each rock features bronze plaques on local basalt stone quarried on a local ranch. The same stone was used to build our historical Morrow County Courthouse in 1903.
Listen to the first of many episodes to come on Spotify today! It will be available on other platforms, and a QR code will also be on each rock in town in the near future. 
Special thanks to Julie Baker, Office Manager for OSU Morrow County Extension office, and their high school intern, Paul Lindsay for making this project happen.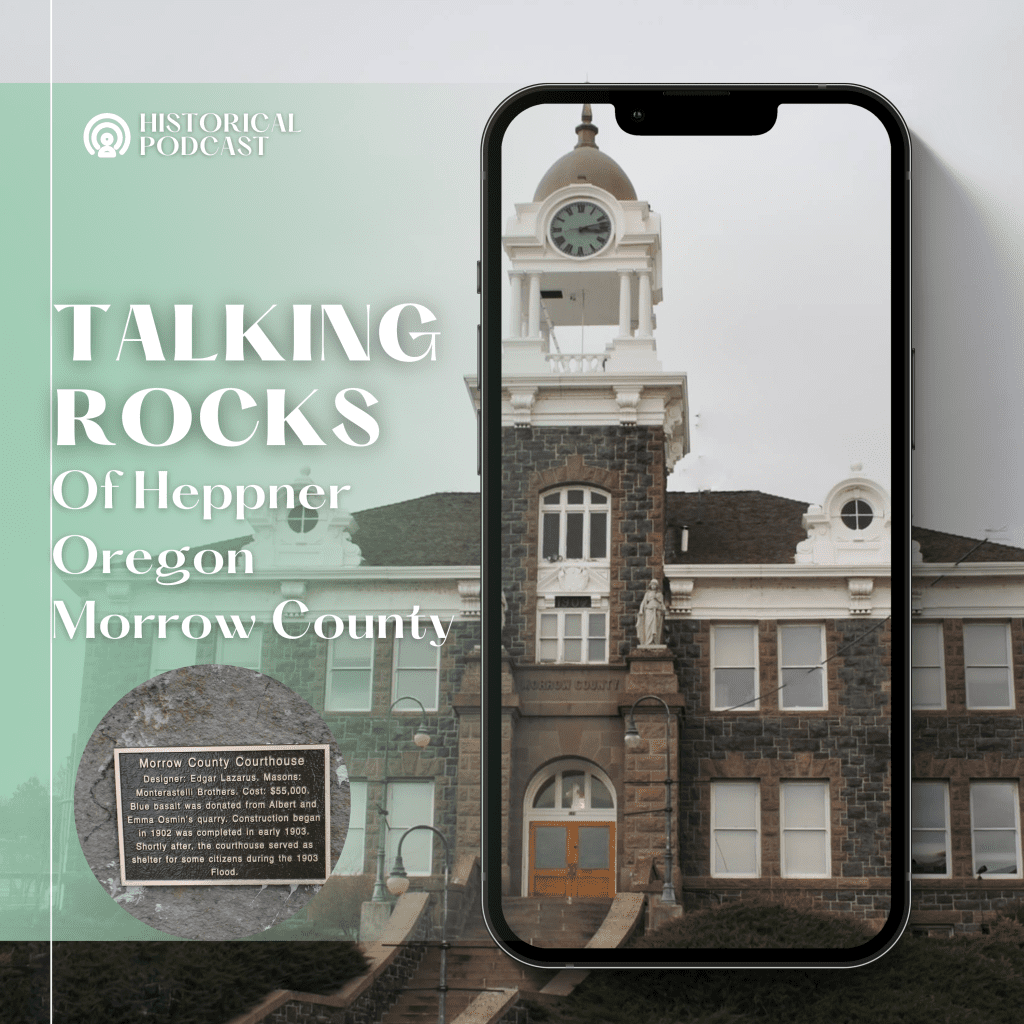 Heppner Volkswalk – Year Round
Heppner is a bike and pedestrian friendly town, with both 5k and 10K Volkswalking routes with many scenic views and historical landmarks along the way.
These Volkswalks are currently sanctioned IVV/America's Walking Club (AVA) Event routes