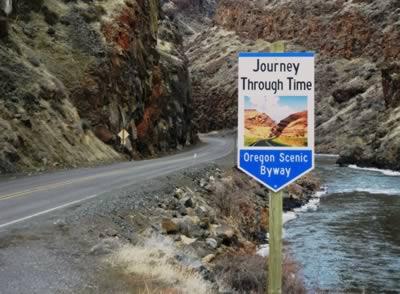 Blue Mountain Scenic Byway Information
This 145-mile/233-kilometer route cuts the corner of Interstate 84 in northeast Oregon, leading through ranching communities up into the forests and wilderness areas of the Blue Mountains.
Safe Driving Tips:
Drive at reasonable speeds.
Drive defensively. You will encounter wildlife and free range livestock.

Expect to meet logging trucks, even if the road is not signed.
Don't drive in the dust of other vehicles.
Park well off the road, but don't block turnouts.
Carry tire chains, blankets, matches, extra food, tow chain, and flashlights.
Keep the car radiator filled.
There Are No Stations Between Heppner And Granite. Don't Let Your Tank Get Too Low.
Electric Vehicle Information: Heppner does have a charging station at City Park by the Library/Museum.
Make frequent stops; get out of the car and stretch to avoid fatigue.
Take advantage of the beautiful scenery and recreational opportunities available.